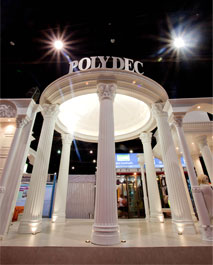 "Polydec" polyurethane moulding was registered since 1992, aimed to produce polyurethane moulding substituted the usage of wood in decoration, in order to solve problems of deforestation and imported from neighbor countries.
However, the reforestation is recently promoted, the demand of using wood in construction and decoration business is still increasing regarding to the number of population.
"Polydec" polyurethane moulding is environmental friendly product, joining Elimination of te use of CFCs in the Manufacture Project supported by United Nation Office for Project Service (UNOPS)
With a number of superiors to other materials, Polydec is suitable for both interior and exterior decoration. It is also reputable and reliable in design and construction industry.
"Polydec" may be the best alternative for interior and exterior decoration, because we do not only supply mouldings, but we also provide rosettes, domes, accessories, and we also do tailor made products. Any custom moulding can be created, and any style of moulding can be reproduced.